Location
1225 West Bay Drive
Largo, FL 33770
Main: (727) 581-8706
Fax: (727) 586-3743
Office Hours
Monday – Friday: 8:00a.m. – 5:00p.m.
Saturday: Closed
Sunday: Closed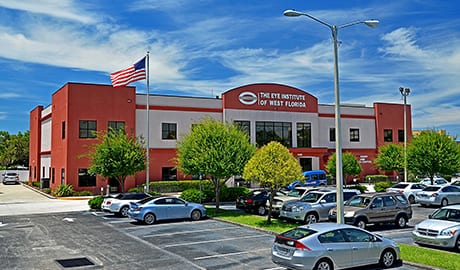 ---
---
Description:
The Eye Institute of West Florida's main location in Largo, FL is the premier ophthalmology center for eye care in Pinellas County and is home to the Largo Ambulatory Surgery Center. Located off of West Bay Drive, we are just minutes east of Clearwater Beach.
We offer a vast array of vision correction solutions, featuring laser cataract removal, advanced intraocular lens implants, Clear Lens exchange, LASIK surgery, glaucoma care, cornea repair and implants, dry eye help, Oculoplastics, a surgical center, general eye care including exams, eyewear, and contacts.
You will be greeted by one of our caring Patient Advocates upon your arrival, and fresh cookies and coffee are always available! We look forward to seeing you soon.
Services:
General Eye Care
Eyewear and Contact Lenses
Doctors:
Cataract Specialists:
Stephen M. Weinstock, M.D., FACS, Robert J. Weinstock, M.D., Neel R. Desai, M.D.,
Glaucoma Specialists:
Jeffrey S. Schwartz, M.D.
Retina-Vitreous Specialists:
Leonard S. Kirsch, M.D., FRCS (C), Richard J. Hairston, M.D., FACS, Janie Ho, M.D.,
Oculoplastic Specialist:
Stacia H. Goldey, M.D.
General Ophthalmologists:
Winston T. Cope, M.D., Lewis I. Apter, M.D., James A. Roberts, M.D.
Cornea Specialists:
Neel R. Desai, M.D.
Optometric Physicians:
Douglas G. Johnson, O.D., Mary Lou Smith, O.D., Priti B. Panchal, O.D., Melinda L. Gruszka, O.D., Jeffery D. LaPlume, O.D. Nora L. Cothran, O.D., Tina Crevello, P.A.