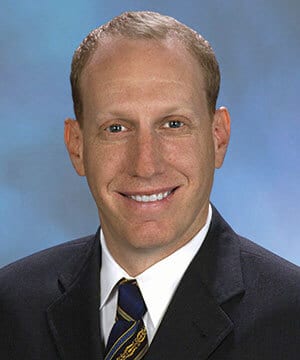 Robert J. Weinstock, M.D. is a board-certified ophthalmologist and fellowship-trained cataract and refractive surgeon. After completing his residency in 2001, he performed his refractive and cataract fellowship under his father Stephen M. Weinstock, M.D. at The Eye Institute of West Florida. Dr. Weinstock now serves as the Director of Cataract and Refractive Surgery at The Eye Institute of West Florida and the Weinstock Laser Eye Center. He is also the Medical Director of the Largo Ambulatory Surgery Center and is an associate clinical professor at the University of South Florida's Department of Ophthalmology.
Dr. Weinstock has performed over 30,000 cataract and refractive procedures and has pioneered and innovated revolutionary technologies such as micro incisional cataract instrumentation, accommodative implants, intraoperative aberrometry, femtosecond laser cataract surgery, and 3D surgical visualization/guidance. He supervises the Research Department at The Eye Institute, which is continually involved in FDA phase III and IV clinical studies. Dr. Weinstock has received the American Academy of Ophthalmology achievement award and he serves on the American Society of Cataract and Refractive Surgery cataract clinical committee. He has authored Over 10 book chapters, has written over 200 published articles and has given over 200 lectures internationally.
Other leadership roles include the Chief Medical Editor for the journal Cataract and Refractive Surgery Today and a member of the editorial board for the journal Ophthalmology Management. He is on the board of the Outpatient Ophthalmic Surgery Society and the CEDARS/ASPENS organization. Dr. Weinstock is a consultant and serves on the medical advisory board of many large and small ophthalmic companies such as Alcon, Bausch + Lomb, and AMO. He lives in Tampa Bay with his wife and 3 boys. He enjoys fishing, free diving, spearfishing, snowboarding and watching his children play competitive basketball.
Joined the Practice: 2001
Place of Birth: Miami, FL
Undergraduate: Brandeis University, Waltham, MA
Medical School: The Chicago Medical School, IL
Internship: St. John's Mercy Medical Center, St. Louis, MO
Residency: St. Louis University School of Medicine, MO
Fellowship: The Eye Institute of West Florida
Board Certifications: American Board of Ophthalmology, Cataract Certification (Sub-Specialty) Cataract/Implant Surgery, American Board of Eye Surgery, LASIK Certification (Sub-Specialty), Refractive Surgery
Academic Appointment: Assistant Clinical Professor, Department of Ophthalmology, University of South Florida, Tampa
Specialty: Refractive Cataract & LASIK Surgery