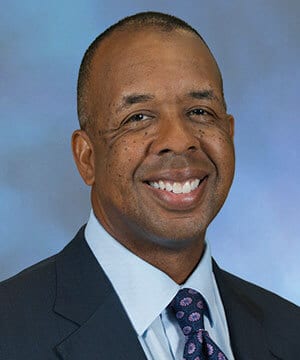 Joined the Practice: 2001
Place of Birth: West Virginia
Undergraduate: Tougaloo College, Jackson, MS
Medical School: Johns Hopkins University, Baltimore, MD
Internship: Greater Baltimore Medical Center, Baltimore, MD
Residency: Wilmer Ophthalmological Institute, Johns Hopkins Hospital, Baltimore, MD
Fellowship: Center for Retina-Vitreous Surgery, Memphis, TN
Board Certification: Diplomat American Board of Ophthalmology
Academic Appointments: Assistant Chief of Service, Wilmer Ophthalmology Institute, Assistant Professor, Wilmer Ophthalmology Institute.
Specialty: Diseases and Surgery of the Vitreous, Retina and Macula
Richard J. Hairston, MD, FACS, is a vitreous and retina specialist. He joined The Eye Institute in June 2001 coming to us from a busy retina practice in Washington, DC. Dr. Hairston graduated from the Johns Hopkins University School of Medicine and did his residency at the Wilmer Ophthalmological Institute at Johns Hopkins University. He completed a fellowship in diseases and surgery of the retina and vitreous at The Center for Retina Vitreous Surgery, Memphis, Tennessee. He then served as Assistant Chief of Service in Ophthalmology and Director of the Ocular Trauma Service at Johns Hopkins Hospital. Most recently he was Assistant Professor of Ophthalmology at Johns Hopkins University. He is certified by the American Board of Ophthalmology. Dr. Hairston enjoys an international reputation as an outstanding retina and vitreous surgeon.