Location
1295 West Bay Drive
Largo, FL 33770
Main: (727) 559-9811
Fax: (727) 551-4202
Office Hours
Monday – Friday: 8:00a.m. – 5:00p.m.
Saturday: Closed
Sunday: Closed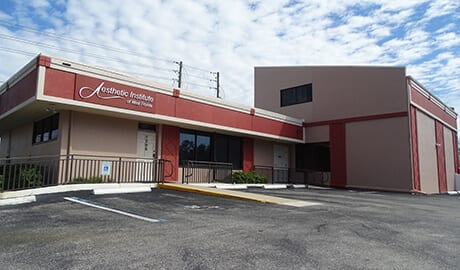 ---
---
Book Your Appointment Online
Online Booking: Important Information
All issues with pain or loss of vision are emergent. Call

(813) 792-0444

 to be seen immediately.
Note: You are considered a new patient if you have not been seen by any of our doctors in 3 years or are seeing a different doctor for the first time.
Please select below if you are a New or Returning Patient (visit type), the Reason for Your Visit, and select Self Pay in the Insurance drop down.
Unable to call right now? Click here to request an appointment call back.
Description:
The Aesthetic Institute of West Florida is the aesthetic association of The Eye Institute of West Florida, offering our patients surgical and non-surgical cosmetic and aesthetic services. Located off of West Bay in Largo, FL, the Aesthetic Institute is just a few hundred feet in front of The Eye Institute of West Florida's main office.
The physicians at The Eye Institute of West Florida are accomplished ophthalmologists with subspecialty training in all major areas of ophthalmology. The Eye Institute has a specialist for all of the different ocular conditions, including cataracts; refractive treatments, such as LASIK or a Clear Lens Exchange; glaucoma; retinal diseases, including macular degeneration and diabetic retinopathy; and oculoplastics procedures, such as blepharoplasty or eyelid surgery.
Each specialist is an ophthalmologist (medical eye doctor) who has completed additional fellowship training for surgery related to a specific ocular disease or condition, making them an expert in that area of ophthalmology. We are proud to have board-certified, fellowship-trained ophthalmologists offering superior care in Tampa, Largo, St. Petersburg, and Clearwater.
Services: