Location
1225 West Bay Drive
2nd Floor
Largo, FL 33770
Main: (727) 450-3030
Fax: (727) 450-3031
Office Hours
Monday – Friday: 8:00a.m. – 5:00p.m.
Saturday: Closed
Sunday: Closed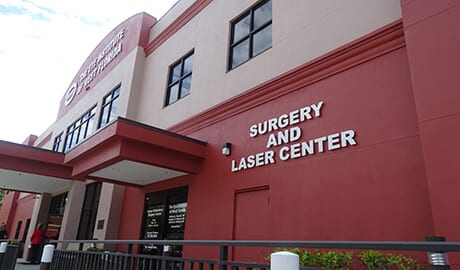 ---
---
The Largo Ambulatory Surgery Center is the premier ophthalmology surgery center of Pinellas County. It is designed specifically for the treatment of eye diseases and disorders. We provide safe and cost-effective care in each field of ophthalmology along with the most advanced technology for the best possible results.
The Largo Ambulatory Surgery Center is dual certified by the American Health Care Association (ACHA) as well as the Accreditation Association for Ambulatory Health Care (AAAHC).  It is connected to our Largo office location to make it convenient for patients to receive the services they need all under one roof.


Technology and Equipment:
4 Surgical Operating Suites.
2 different laser platforms: The LENSAR femtosecond laser and LenSx laser.
Each suite is equipped with TrueVision®, an advanced 3-D stereoscopic high-definition visualization system that optimizes efficiency in the operating room and provides a better view for the surgeon of what is happening during the procedure.
Optiwave Refractive Analysis (ORA) takes real-time measurements to determine lens power, lens position, and astigmatism correction during your actual cataract surgery in order to optimize your results and minimize the need for further refinement.