Tired of glasses and contact lenses?
At The Eye Institute of West Florida offers the most advanced laser surgery procedures to improve your vision and say goodbye to glasses.

---
Benefits of Clear Lens Exchange
Enjoy 20/20 vision without glasses! Vision correction provides the freedom from glasses and contact lenses at any age. The ideal candidate for Clear Lens Exchange procedure is after the age of 40 and before developing cataracts.
Benefits of choosing Clear Lens Exchange:
Eliminate the need for glasses or contact lenses
Stop spending money on new glasses, lost contact lenses and repairing broken glasses
Never develop cataracts: therefore, never need to undergo cataract surgery when you are in your 60s, 70s or 80s
Freedom to participate in new activities
Stop the process of presbyopia that causes progressive problems reading
Make an appointment at (727) 581-8706 to see if this procedure is right for you.
---
About Clear Lens Exchange
Clear lens exchange (CLE, also commonly referred to as refractive lens exchange) is a procedure very similar to cataract surgery and is ideal for patients over the age of 40 who have not yet developed cataracts.
This procedure involves the implantation of an intraocular lens to replace the eye's natural lens. The difference between CLE and cataract surgery is that the natural lens being replaced during the CLE procedure is clear, while a cataract lens is cloudy. This refractive procedure is often the best option for patients with high degrees of farsightedness and may be appropriate for certain other patients, depending on age, visual concerns, and lifestyle.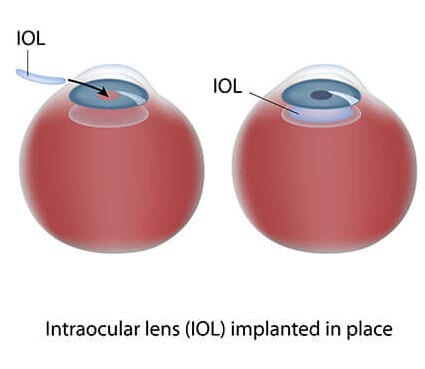 ---
Why Choose Us

Helping people have better vision is our specialty!
Dr. Stephen Weinstock, Dr. Robert Weinstock, and Dr. Neel Desai are board certified and fellowship trained in refractive laser surgery. Each of our surgeons are nationally recognized for their surgical skills and are internationally known for their expertise in ophthalmology. This means the best vision results possible for you.
Your surgery will be performed at our Largo Ambulatory Surgery Center, the premiere ophthalmology surgery center of Pinellas County. Our surgery center is attached to our Largo office location to make it easy for patients to receive the pre-surgery consultations, surgery and post-surgery follow up care all under one roof. Our patients receive safe and cost-effective care along with the most advanced technology
If you are considering what life without glasses would be like, call (727) 581-8706 to make an appointment with one of our specialists.