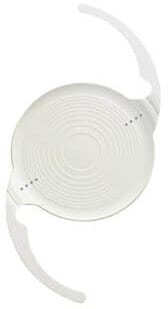 Getting older can mean lots of things: creaky joints, wrinkles, and the loss of your full range of vision. For those that suffer from both presbyopia and cataracts, a new IOL on the market called the Tecnis Symfony IOL is a great treatment option. The Symfony is truly the first of its kind, because it's able to treat both cataracts and presbyopia, and improves distance vision at the same time. Unlike traditional IOLs, the Symfony also only leaves clear vision in its wake, instead of glare and halos around lights.
Am I A Good Candidate For The Tecnis Symfony IOL?
The Tecnis Symfony IOL is an intraocular lens that's ideal for patients who are already looking to undergo cataract surgery. Like in traditional cataract surgery, the Symfony IOL is inserted into the eye and replaces the aged natural cataract lens in the eye. The Symfony is used to replace the cataract, leaving clear vision. Many patients find that they can see clearly almost immediately after the surgery is completed, though it does depend on the patient. Full results of the Symfony IOL are achieved after recovery and healing are complete.
In addition to many patients improving their full range of vision, a big advantage of the Symfony is that the need for reading glasses is usually almost eliminated. During traditional cataract surgery, standard lenses are used, which cannot change the need for glasses. This leaves patients with clearer vision, along with a life that is free of reading glasses. The Symfony IOL is also able to improve vision at all distances for patients, which the standard lenses used in cataract surgery also cannot do.
How Do I Receive The Tecnis Symfony IOL?
Because the Symfony IOL is relatively new, many practices in America may not be offering it for patients who suffer from presbyopia and cataracts. The Eye Institute of West Florida is happy to announce that we are now offering this revolutionary new technology for our patients. Please contact us for more information, and to set up an appointment for a cataract surgery consultation.
The Symfony IOL is an innovative new lens, but it may not be the right procedure for everyone. Before scheduling cataract surgery, it is important to talk to your doctor to make sure cataract surgery is right for you. If you suffer from the debilitating effects of presbyopia and cataracts, the Tecnis Symfony IOL could be the next step on your journey to clear vision.