F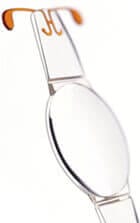 or years The Eye Institute of West Florida has successfully restored vision for thousands of patients. As technology improves, so do vision results. The art and skill of our cataract specialists helped improve operating methods that have physicians around the world now using the same micro incisional technique pioneered at The Eye Institute. (Visit our News & Events section to discover many book chapters authored by our cataract specialists)
Additionally, technology has improved vision by creating implantable replacement lenses that allow the eye to focus. It wasn't until the 70's that the use of plastic lenses actually became widespread and, through the advent of modern lens technology, scientists have produced some of the most amazing lens options used today. At The Eye Institute, we are committed to providing our patients with the latest lens options for the best possible results.

One of these innovations is the accommodative intraocular lens (IOL). These premium implants, like the new Crystalens® by Bausch & Lomb, have patients experiencing incredible vision at all ranges thereby minimizing the need for eyeglasses for most activities, including reading, computer, and driving.
Like your natural lens, the Crystalens uses eye muscles to flex and "accommodate" in order to focus on objects in the environment at all distances. Crystalens dynamically adjusts to your visual needs. By comparison, a standard implant lens only allows the eye to focus at one distance (typically distance vision) whereas a premium lens focuses at all ranges of vision – up close, intermediate, and distance.
Unfortunately, accommodative lenses are not for everyone. Your doctor will help determine if you are a candidate for one of these premium lenses. Call today to make an appointment for your cataract consultation.
Advanced Intraocular Lens (IOL) Options
Many brands have emerged in the market of multifocal lenses. At The Eye Institute, we help you select the right lens that will best match your lifestyle. We understand the impact of quality vision and want the very best for you should you be a candidate. Two particular lens options you may have heard of are the Crystalens® and Restore®.
Crystalens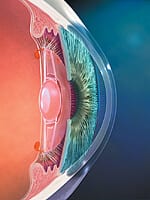 CrystalensThe Crystalens® AO lens represents the 4th generation of advancement in intraocular vision correction technology and is the only accommodative implant approved by the FDA. It actually flexes inside the eye like a healthy, natural lens to focus light rays on the retina.
Crystalens® AO is the only vision solution that works with the eye muscles to provide a complete range of sight from near to far and all distances in between – reducing or possibly eliminating the need for glasses.
The Crystalens'® unique "hinges" allow the lens to move or accommodate in response to the contraction of the eye muscles of accommodation.
Crystalens® is designed for patients who desire the following:

Desire sharp distance vision both day and night
Good computer vision without glasses
Fair to good near reading vision
Reduced night time haloes and glare
The Restor IOL is a unique technological innovation that can provide a quality vision for near, intermediate, and distance vision by combining the strengths of apodized diffractive and refractive technologies.
The Restor IOL is indicated for patients who desire the following: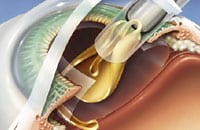 Excellent distance vision
Excellent reading vision
Designed for heavy readers
Patients may need a slight prescription for intermediate or computer tasks and experience some glare and haloes at night.
Take Our IOL Self -Test
---
Meet Your Cataract Care Specialists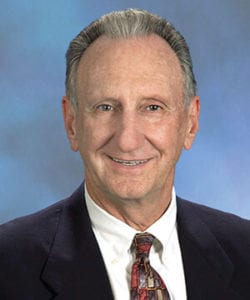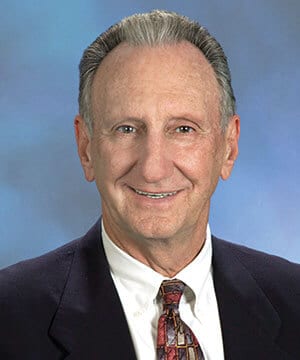 Stephen M Weinstock, M.D., F.A.C.S., is a cataract and LASIK specialist. He founded The Eye Institute of West Florida in 1974, pioneering sub-specialty eye care in Pinellas County. Today, as President and Medical Director, Dr. Weinstock is recognized as a world-renowned cataract and LASIK surgeon.
He teaches the latest techniques such as"no-stitch, no-patch" cataract extraction, and implantation of premium intraocular lenses (IOLs), here and abroad. Dr. Weinstock is also very proud of being the first ophthalmologist to introduce the excimer and YAG lasers to Pinellas County.
In 1999 for his outstanding performance as a refractive surgeon, Dr. Weinstock was honored with the"VISX Star Surgeon" award and placed in the top 5% of refractive surgeons nationwide.
He is one of the only surgeons in the country who has been certified by the American Board of Eye Surgery in both Cataract and LASIK surgery. Dr. Weinstock is also an associate clinical professor of ophthalmology at the University of South Florida.
---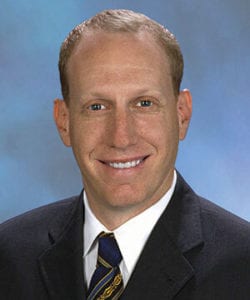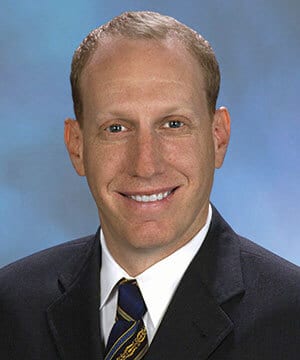 Robert J. Weinstock, M.D. is a board-certified ophthalmologist and is fellowship-trained in cataract and refractive surgery. He became interested in ophthalmology at an early age – as he watched and assisted his father. Dr. Weinstock has joined the practice in 2001 after completing his residency at the St. Louis University School of Medicine.
He is the Director of Cataract and Refractive Services at the Eye Institute of West Florida and The Weinstock Laser Eye Center. He also is an associate clinical professor of ophthalmology at the University of South Florida and serves as the Surgical Director of the Largo Ambulatory Surgery Center.
He was named one of 250 in Premier Surgeon's List of Leading Innovators of 2010 for his contributions to cataract surgery and premium IOLs. In addition to performing thousands of vision correcting cataract and LASIK procedures each year, Dr. Weinstock speaks and teaches nationally and internationally on customized cataract surgery and surgical innovations.
He is continuously engaged in clinical research and studies to evaluate new technology, many of which are sanctioned by the FDA. He is recognized internationally as an expert on new implant technology and micro incisional surgical techniques. He has authored many book chapters on cataract surgery and continues to write journal articles on cataract and refractive surgery.
---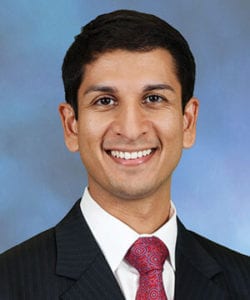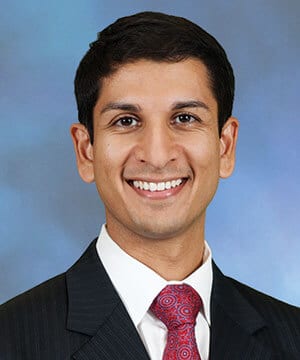 Neel R. Desai, M.D. is a fellowship-trained ophthalmologist strictly specializing in LASIK, cataract, and corneal diseases of the eye. Dr. Desai is a top graduate of the Pennsylvania State University College of Medicine and completed his fellowship in cornea, cataract, and refractive surgery at the Wilmer Eye Institute at Johns Hopkins University.
He is recognized throughout the country and internationally as one of only 100 surgeons able to perform advanced corneal transplants and other complex cataracts, corneal and refractive procedures. He holds pending patents to new surgical products and advanced cornea surgical procedures of his own design.
Additionally, Dr. Desai has authored many book chapters in his field of study and continues to write articles in peer review journals.