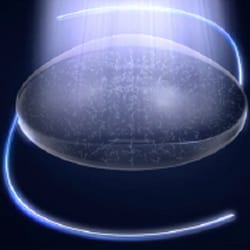 The Eye Institute of West Florida is the first ophthalmology practice in the southeastern United States to use this innovative technology. The Light Adjustable Lens (LAL) is the first of its kind. The lens gives our surgeons the ability to make adjustments to the lens after implementation in a series of brief, painless in-office procedures.
RxSight's Light Adjustable Lens is the only IOL that enables you us to design, trial and customize your vision after cataract surgery. Adjustability takes cataract surgery to the next level by giving you a lens customized specifically for your eyes! In a FDA study of 600 subjects, those who received the Light Adjustable Lens were twice as likely (as those who received a standard monofocal IOL) to achieve 20/20 vision without glasses.
The U.S. Food and Drug Administration has approved the Light Adjustable Lens and Light Delivery Device for patients with pre-existing astigmatism of 0.75 diopters or more who are undergoing cataract surgery. Ask our doctors to explain the possible risks and benefits of cataract surgery.
How the Light Adjustable Lens (LAL) Works The Light Adjustable Lens is made of a special photo-sensitive material that changes the power of your implanted lens in response to UV light, increasing the likelihood that you will achieve your desired vision after cataract surgery.
How the Light Adjustable Lens (LAL) Works:
Light from the RxSight Light Delivery Device (LDD) is directed by the surgeon to the Light Adjustable Lens (LAL)
Macromers in the path of the light are photopolymerized
Unpolymerized macromers move into the exposed area, causing precise shape and power change
The entire lens is exposed to light to polymerize all the remaining macromers
The outcome is a precise change in the lens power to match the patient's individual prescription
For more information visit: https://www.eyespecialist.com/cataract-tampa/light-adjustable-lens-lal/