Hailed as one of the pioneering ophthalmic surgeons in the Tampa Bay area, Stephen M. Weinstock, MD, naturally would only trust his eyes to the finest surgeon when he developed cataracts.
Fortunately, he didn't have far to look.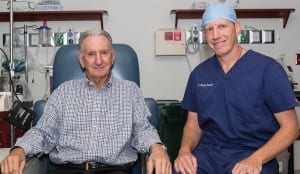 Dr. Stephen Weinstock trusted his cataract surgery to his skilled son, Dr. Robert Weinstock, both of The Eye Institute of West Florida.
Founder of The Eye Institute of West Florida, with offices in Largo, Clearwater, Tampa and St. Petersburg, Dr. Stephen turned to a surgeon he knew personally and trained himself: his son, Robert J. Weinstock, MD.
"It was a given I was going to have my son do the surgery," Dr. Stephen says. "It's not specifically because I trained him and I trusted his abilities any more than those of our other associates. It was more because he has some of the finest hands I've ever seen in the ophthalmic surgical arena.
"He has taken an incredible interest in, and even pioneered, some of the newest and most advanced techniques available for cataract surgery. He actually developed the first refractive cataract fellowship in the country, where he trains other doctors in what he knows. His knowledge and skill set are impeccable. There was never a question in my mind that anyone else would operate on my eyes."
Seeing the signs
A cataract is the clouding of the eye's crystalline lens that occurs as a natural part of the aging process. Symptoms may include difficulty with reading, colors appearing less vibrant and trouble driving at night, primarily because of the appearance of halos around oncoming headlights.
Dr. Stephen says he knew like all people over the age of 40, he was developing cataracts, but for the last few years his vision was a perfect 20/20 when it came to reading the office eye charts.
"But, being able to read an eye chart is just a small part of real life," he adds. "I found that at night when I was driving on a street that was dimly lit, my contrast sensitivity was lacking. If there were people in dark clothing walking or riding a bicycle along the road, for example, I would not see them unless I was already upon them. I was less comfortable driving at night. I also play golf and I eventually had to start using yellow golf balls because I would lose sight of the ball in the air.
"As an ophthalmologist, I was more aware I was having some of these issues than the average person would be. I knew what signs to look for, and I knew when I was ready to have the surgery."
Dr. Stephen says that choosing the best lenses for his eyes was just as important a task as choosing the surgeon.
Read the rest of this article here!