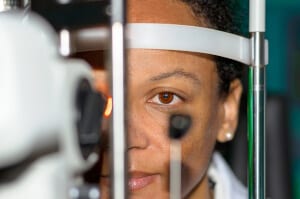 The Eye Institute of West Florida offers comprehensive world-class eye care in Tampa, St. Petersburg, Largo, and Clearwater. Our team includes board-certified, fellowship-trained ophthalmologists and general comprehensive ophthalmologists and optometrists available to perform routine vision services or treat the most complex eye conditions.
Each one of our expert doctors strives to deliver the best outcomes possible for each patient in a compassionate and caring environment.
Optometrist: Dr. Mary Lou Smith
Patient's Testimonial: Dr. Smith is the BEST! Our family loves her!!
Routine Eye Care
Annual eye exams are important to check your vision, screen for eye disease and update eyeglass or contact lens prescriptions. Your eyes and your vision change as you age. Routine appointments with our optometrists or general ophthalmologists can diagnose nearsightedness, farsightedness, and astigmatism as well as virtually all eye and vision conditions.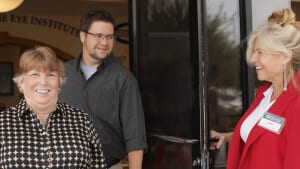 Benefits of using the Eye Institute of West Florida:
If you have an eye problem requiring the services of a specialist, an appropriate board-certified, fellowship-trained ophthalmologist with expertise in your eye condition is available for consultation and treatment
Six convenient locations throughout Tampa Bay
A dual-accredited Ambulatory Surgery Center attached to our Largo location designed specifically for ophthalmology offering you the safest environment for your surgical procedure
A staff that cares for every patient like they are one of their family
The latest technology and most up-to-date equipment to provide you with the best results, faster recovery time and safer procedures
The best technological advancements available
Optometrist: Priti Panchal, O.D.
Physician Assistant: Tina Crevello, P.A.-C.
Testimonial: "Tina" and "Dr. Panchal" treated me like I was the only person in the world. They treated me kindly, professionally, and did everything they could to relieve my stress.
They went out of their way to help me and keep me informed about what is going on. You should be proud of them for their interest in customers and the way they treat people who come to your place. Their attitude is exemplary. Thank you for hiring such people.

I will certainly tell other people about them and your Institute.
---
Meet Our Doctors
Trust Your Eyes to Experience
Our team has been providing world-class care to Tampa Bay since 1974. We will continue to provide vision services to you throughout your life span.
Optometrist: Dr. Douglas Johnson
Patient's Testimonial: Dr. Johnson and his staff are very thorough. Dr. Johnson takes time to explain everything to me.
I feel the Eye Institute is very thorough in examining your eye problems compared to other previous eye examinations I have had. Your people are very prompt, friendly and courteous. They make you feel comfortable.
Not sure who you want to make an appointment with? Don't worry! Give us a call and we will find the right doctor that matches your preferences, vision needs, and schedule.
Call (727) 581-8706 to make an appointment today.
---
Vision Correction Options
Whether you have been wearing glasses as long as you can remember or have started having vision problems as you age, there are vision correction options for you. Your age, eye condition, and vision needs will determine what laser procedure is best for you.
After the age of 40, many people start to become concerned with the effects of aging. As our skin and joints, our eyes start to lose their flexibility and the clarity of near vision begins to change. Our aging eyes can often make what were once easy tasks much more difficult, such as reading a book or trying to view a text message on your smartphone.
About Presbyopia
When our eyes lose their flexibility, this is called presbyopia. This lost elasticity means that the eye muscles cannot change the shape of the lens enough, which makes near vision more difficult. Therefore, unless you were nearsighted and needed glasses for distance, most people after the age of 40 find that they need to use reading glasses to be able to see properly.
Treatment Options for Presbyopia
The most common solution for presbyopia is the continued use of eyeglasses or contact lenses. This is a temporary solution for vision correction.
LASIK surgery or Clear Lens Exchange offers patients long-term solutions for vision correction. Weinstock Laser Eye Center, a division of The Eye Institute of West Florida, is the premier vision correction center in Tampa Bay.
If you would like to experience life without glasses or contact lenses, visit WeinstockLaserEye.com to learn more about these options.
---
Optical Centers
The Eye Institute of West Florida proudly offers our patients the opportunity to shop and purchase eyeglasses, sunglasses and contact lenses at our in-house optical shops.
Dedicated to providing personalized solutions for our optical customers.
We consult with our customers on their lifestyle, hobbies, employment, and daily activities to develop a customized fitting based on your needs. You can purchase leading brands in designer eyewear including Coach, Tiffany & Co, Rayban, Costa, Maui Jim and more.

Our team has been providing world-class care to Tampa Bay since 1974. We will continue to provide vision services to you throughout your life span.
Get to know our Generalists. You can view their credentials and bio by clicking on each picture.
---
Visit one of our two Optical Centers
Largo Office
1225 West Bay Drive
Largo, FL 33770
(727) 581-8706
Hyde Park Office
501 N Howard Ave Ste 100
Tampa, FL 33606
(813) 253-2727
Questions? Contact us on our Optical Hotline at (727) 584-5748