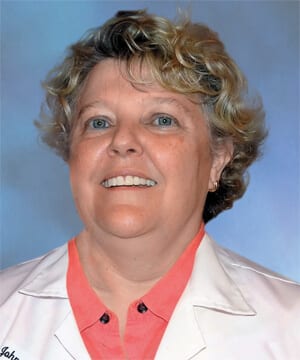 Sandra M Johnson, MD, is a fellowship-trained specialist who has been on the faculty of several of the most renowned educational institutions in the United States; Dartmouth, University of North Carolina, and the University of Virginia. She joined The Eye Institute of West Florida after 20 years of experience in all aspects of glaucoma. She follows patients as their primary glaucoma caregiver as well as seeing patients as a consultant to other eye care professionals. She is skilled in the medical, laser and surgical management of the disease. While working as a clinician-educator, she wrote scientific papers and chapters and contributed to many eye meetings. Since 2006, she has cultivated an interest in international ophthalmology and served ORBIS, as a volunteer eye faculty in many foreign countries.
Joined the Practice: 2017
Place of Birth: Nashua, NH
Undergraduate: Dartmouth College, Hanover, NH
Medical School: Boston University, MA
Internship: Tuft's University, St. Elizabeth of Boston, MA
Residency: University of South Carolina, Columbia
Fellowship: Harvard University, Massachusetts Eye and Ear Infirmary
Board Certification: American Academy of Ophthalmology, American Board of Ophthalmology
Academic Appointment: Volunteer Faculty, Department of Ophthalmology, University of South Florida, Tampa
Specialty: Glaucoma
Articles:
Videos:
Locations:
Orbis's Volunteer Faculty Share Their Expertise With Eye Care Colleagues in Countries Far from Home – Click Here
Mirza S, Johnson SM.  Efficacy and patient tolerability of Travaprost BAK-free solution in patients with open-angle glaucoma and ocular hypertension.  Clinical Ophthalmology 2010
Johnson, SM, Pike, EC, Feinstein, EG. Complications of inadvertent filtration blebs following cataract extraction.  J Cataract Refract Surg 38:539-43, 2012.
Murphy RK, , Ketzler L,. Rice, RD MD, Johnson SM, Jaccoma EH, MD.  Glucosamine as a possible risk factor for glaucoma: Retrospective Case Review. JAMA Ophthalmol  955-7, 2013
Patel, V, Gupta, A, Nunn J, Johnson, SM. The effect of early post-operative glaucoma medications on hypertensive phase with the Ahmed glaucoma implant.  J of  Ophthalmology and Ophthalmic Surgery.  1(2);2015. – Click Here
Areiter E, Johnson SM. The spectrum of angle closure, uveal effusion syndrome and nanopthalmous: a case report. J of Current Glaucoma Practice.  2016. – Click Here
Page R, Johnson SM. MIGS and cataract surgery.  IN: Cataract Surgery. AVID Science, ebook, 2016.
Hyde Park Location
501 North Howard Avenue Suite 100, Tampa, FL 33606
Main: (813) 253-2727
MORE INFO
---
Westchase Location
11925 Sheldon Road, Tampa, FL 33626
Main: (813) 792-0444
MORE INFO
---
Clearwater Location
3165 McMullen Booth Rd Building A, Suite 1, Clearwater, FL 33761
Main: (727) 723-8706
MORE INFO