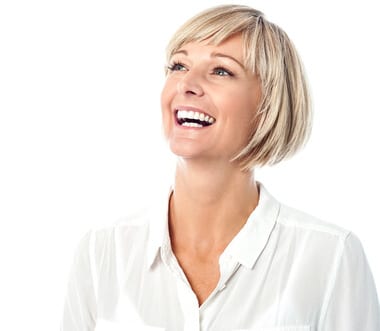 Sagging forehead tissue can begin as early as age 30. Gravity's effects manifest with brow heaviness and wrinkles between the eyebrows (glabellar or scowl lines) and furrows across the central forehead.
A brow lift is a plastic surgery procedure that can reverse these changes by raising the eyebrows to a higher and more aesthetic position, opening the eyes and softening aging furrows across the forehead and between the eyebrows. A brow elevation can be accomplished using a variety of procedures (see FAQ) which are tailored to the patient's desired result, hairline, position, and hair thickness.
A brow lift does not take the place of an eyelid lift to improve baggy eyelids, puffy eyes, or crows feet. Consider eyelid surgery or wrinkle treatments for these problems.
Any brow procedure can be combined with eyelid surgery, cosmetic facial filler or BOTOX® Cosmetics for more dramatic results. Dr. Mohadjer will be glad to discuss your options and recommend the right procedure based on your age and goals. Be sure to inquire about a chemical brow lift using BOTOX®.
Jasmine Mohadjer, M.D.
Reward yourself with a physician who is passionate about her service and understands the importance of self-image. Dr. Jasmine Mohadjer is a board-certified ophthalmologist, fellowship-trained in oculoplastic surgery and is a fellow of the American Society of Ophthalmic Plastic and Reconstructive Surgery. Her comprehensive training allows her to offer surgical, minimally-invasive and non-surgical treatments in facial rejuvenation. Her extensive experience affords her the necessary skills needed to create an individualized rejuvenation plan to balance your cosmetic desires with natural, pleasing results. But it is because of the unmistakable care she has for her patients that people choose Dr. Mohadjer for their elective cosmetic procedures.
The relaxed atmosphere created by Dr. Mohadjer's warm personality places patients at ease so they may openly express their aesthetic goals and desires. Likewise, Dr. Mohadjer will take time to explain the realistic expectations and benefits of the brow lift procedure in a comfortable way that is also easy to understand.