Aesthetic Services in the Largo, Clearwater, St. Petersburg, and Tampa
Aesthetic Institute, a division of The Eye Institute of West Florida, understands the importance of aesthetic options for our patients. Rejuvenating the skin and face using the most advanced correction options provides both surgical and non-surgical procedures to feel and look your best.
About Our Team
Our Tampa Bay Oculoplastic Surgeon, Jasmine Mohadjer, M.D., is trained specifically to understand the intricacies of the face and especially the area around the eyes. She is a board-certified fellowship-trained ophthalmic plastic and reconstructive surgeon. She is one of only a few doctors in the United States with the prestigious title of an ExpertInjector.
The relaxed atmosphere created by Dr. Mohadjer's warm personality places patients at ease so they may openly express their aesthetic goals and desires.
"I was very pleased with the results from my eye surgery performed by Dr. Mohadjer and would highly recommend her to anyone."

G.C. –patient of Dr. Jasmine Mohadjer
Learn more about Dr. Jasmine Mohadjer
---
Common Surgical Procedures
Eyelid Surgery (Blepharoplasty)
Eyelid surgery or blepharoplasty is a popular surgical procedure that provides a more youthful, natural appearance and can restore vision partially blocked by excessive skin. Blepharoplasty may be considered a medical necessity and covered by insurance if it affects vision to a certain degree.
For many patients, it is considered a cosmetic procedure. The eyelids are frequently the first indicators of aging. Droopy and puffy eyelids can make you look tired, angry, or older than you feel.
Brow Lift
Have you noticed sagging forehead tissue? The effects of gravity often show with wrinkles between the eyebrows (glabellar or scowl lines) and furrows across the central forehead.
A plastic surgery procedure called a brow lift can reverse these changes. To further minimize wrinkles, we offer a Brow Life with Botox®
Ready to look your best? Call (727) 559-9811 to set up a consult.
"I wanted to thank you from the bottom of my heart. What you have given me was a gift that no one could give me before…self confidence. I got a second chance at looking a little younger! I owe that look to you, and for that I thank you!"

Jenny –patient of Dr. Jasmine Mohadjer
---
Non-surgical Cosmetic Procedures
Botox®
No More Frown Lines and Brow Furrows
The skill of injecting BOTOX® requires the understanding of the anatomy of the antagonistic muscle pairs in the face and injecting the right amount of BOTOX® in the right places.
Dr. Mohadjer is part of the 3% of doctors in the country considered an ExpertInjector.
Cosmetic and Dermal Fillers
Enhance your beauty with immediate results
Men and women of the Tampa Bay area who are beginning to show the first signs of aging choose injectable fillers to reverse the aging process. The Aesthetic Institute offers Juvéderm™, Perlane®, Restylane®, Radiesse®, Belotero®, Hydrelle™, and Sculptra®.
Improve Your "Double Chin" Appearance
Offering Kybella®, the only FDA-approved injectable to reduce or eliminate fat cells under the chin.
Laser Skin Rejuvenation
Minimize wrinkles, reduce facial scars, and increase skin firmness all with one treatment and minimal downtime using skin resurfacing. From sun damage to unwanted blood vessels, rosacea or redness of the face, we have the solution for you.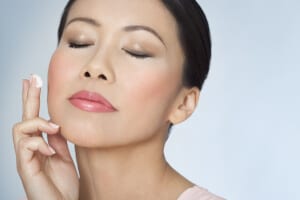 Call (727) 559-9811 to make an appointment today.
Latisse® and Obagi Skin Products
The Aesthetic Institute offers popular treatments and products to enhance your beauty.
Latisse® for longer lashes is an FDA-approved treatment to grow eyelashes for people with inadequate or not enough lashes.
Obagi Skin Care Products are only available through physicians, medical spas, and skincare professionals. If you are looking to minimize wrinkles, dark spots or acne, consult with us at Aesthetic Institute to determine which products are right for you.
---
Gift Certificates
Looking for a gift for a friend or spouse? We offer gift certificates for our services. An ideal gift for any occasion!
"I had the best experience meeting Dr. Mohadjer. I found her eager, warm and charming."

Stacy – patient of Dr. Jasmine Mohadjer