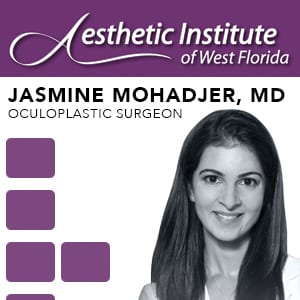 Certain things in life are inevitable. One of those things is aging. Whether we like it or not, aging is a natural part of life. However, just because we're getting older doesn't mean looking old is also inevitable.
With today's advanced technology and techniques, there is an excess of options to refresh our appearance. These options are not all created equally, and not all doctors are the correct doctor for facial rejuvenation treatments. It is imperative to know your options and choose the appropriate doctor before deciding to undergo any type of medical or cosmetic procedure.
Jasmine Mohadjer, MD is a board-certified, fellowship-trained oculoplastic surgeon at The Eye Institute of West Florida and the Aesthetic Institute of West Florida. As an oculoplastic surgeon, she is an ophthalmologist (medical eye doctor) who went on to complete additional training, called a fellowship, for surgery related to the structure of the eye, the tissue surrounding the eye and facial plastic surgery. Dr. Mohadjer was one of only 20 physicians selected from across the United States to receive an appointment to a two-year post residency fellowship in Oculofacial Plastic and Cosmetic Surgery.
Dr. Mohadjer's prestigious training and qualifications allow her to assist patients by improving their vision, their appearance and their life. Always putting her patients' best interests at heart, Dr. Mohadjer practices by the motto, 'To uphold the highest standards and safety, I never take shortcuts.' She provides her patients the best natural outcomes in a safe and caring environment.
Dr. Mohadjer performs complex precise surgical procedures related to the eye. These procedures include treatment of droopy eyelids to improve vision and appearance, periocular skin cancers, tearing problems and other eyelid abnormalities. Her qualifications also enable her to perform cosmetic surgical and non-surgical facial procedures at the Aesthetic Institute of West Florida.
The Aesthetic Institute offers patients a variety of restorative procedures from eyelid surgery to facial rejuvenation treatments designed to eliminate wrinkles and smooth away age lines to defy years of aging. Dr. Mohadjer is one of only 3% of doctors in the United States certified as an Expert Injector by ExpertInjector. Her goal for each patient is to enhance their natural beauty and reverse unwanted changes caused by aging.
Dr. Mohadjer prides herself and her practice for being at the forefront of the newest, most advanced treatment options.
"There are so many options available for patients today that it can be overwhelming to know which is right for you. Meeting with your physician for a consultation is imperative to achieve the best results," Dr. Mohadjer notes. "Additionally, the industry is constantly changing, and it is important for patients to find a practice that stays up-to-date with technology. This is something our practice is constantly aware of, but I am also very particular on what new procedures, techniques or technology we introduce to our patients. We go through months of training and testing before actually offering something to our patients because I want to ensure it is something I truly believe in and think my patients will benefit from," Dr. Mohadjer says.
One such new technique available at the Aesthetic Institute of West Florida is called Microdroplet Lift.
"Microdroplet Lift was developed by a cosmetic surgeon in Beverly Hills. It is a new way to administer Botox or other dermal fillers," Dr. Mohadjer explains. She adds, "This new, advanced technique is specifically designed to minimize what people often refer to as 'the frozen forehead,' following their treatment. With Microdroplet Lift, patients have full movement in their forehead and can make natural facial expressions immediately after the procedure without affecting the results. This is an ideal solution for someone who is interested in a procedure to smooth away fine lines and wrinkles in the forehead, around the eyes or between the eyebrows but feared appearing unnatural."
Microdroplet Lift is one of the many facial rejuvenating options offered at the Aesthetic Institute. Dr. Mohadjer and her team tailor each patient's treatment based on their aesthetic goals and lifestyle.
Procedures available at the Aesthetic Institute include Kybella®, the only FDA-approved injectable to reduce or eliminate fat cells under the chin to improve the appearance of a "double chin," injectables to replace lost collagen and improve the appearance of sunken cheeks, such as Sculptra®, Botox® and other fillers and botulinum toxins to improve the appearance of fine lines and wrinkles.
The different laser treatments available at the Aesthetic Institute are designed to target your problem area, whether your goal be to minimize wrinkles, reduce facial scarring and increase firmness where skin has begun to lose elasticity or address unwanted blood vessels, Rosacea or redness of the face, reversing years of damage caused by aging and environmental elements such as the sun. Combined with the Obagi® skin care products available, your skin will look and feel better than you ever remember.
No matter what your concern is, Dr. Mohadjer and the Aesthetic Institute are happy to help you become the best, most rejuvenated version of yourself.
*Call (727) 559-9811 for your complimentary consultation*